Popper!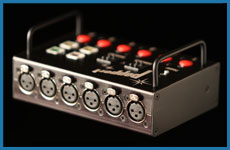 Traditional electronic flashes and theatrical strobe lights are unsuitable for use in motion picture photography, because their flash is of too short a duration to be reliably recorded during the actual camera exposure. The "POPPER" allows for simple and convenient control of readily available theatrical strobes and"Hungaroflash" lightning units. By providing direct user adjustment of both "Flash Intensity" and "Flash Duration", these strobe units can be conveniently and effectively used for off-screen photo flash effects, without the expense of time or complexity in setting up a dimmer control console.
Availbe in 1x and 6x
Download 1X Quick Guide
Download 6x Quick Guide
LFXHub
The LFXHub is developed based on our many years of experience on location and finest German engineering.
Software based operation. Additional functions can be upgraded later. The LFXHub has already grown.
English, French, Spanish and German menu languages.
Enclosure made of heavy duty aluminum.
Short-circuit proof interfaces (except power output).
Connected accessories are automatically detected.
Wide temperature range -20°C to 70°C (-4°F ... 158°F)